11-26-2022: rp-jesus this is hard
hello everyone!!! i uhm. forgot what i was gonna say. OH dont worry gang i remembered grins. anywayss i found this game online called shadow arts, its pretty fun! i linked the official site on my misc page. rina toba is my fav character. there's a character named mii sasaduka who's like. windows girl. one of her specials is the blue screen of death LOL. my favorite character is rina toba though. shes so cool!! her stylish red hat and long brown hair reminds me of carmen sandiago! (wait, was carmen sandiago's hair brown or black???) anyways heres a screenshot from shadow arts plus since im too lazy to get my own screenshot.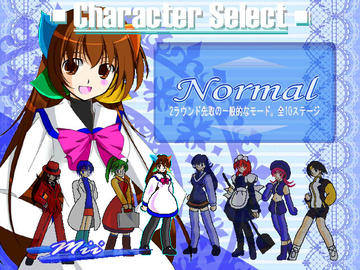 i also got a bunch of other games from the same site i found shadow arts on, but they're all visual novels and in japanese (>﹏<).

i've been working on rhythm rpg again!! again, not much progress, but its more progress than before! all day i've been working on a cutscene where the two main characters meet, and its been HELL!!!! it was so confusing when everything was out of order in the playtesting, since i've done this same scene before in rpg maker fes. in the end, it turns out the solution was the easiest one: just have the cutscene be on one event and seperate it via pages. anyways, i have to make the charsets and faceset for cosmic girl as well as clean up connor's faceset and charset. cya! i'll be getting back to work! ∠( ᐛ 」∠)_